WINNERS – Planet Surfacing Win An Award!
Planet Surfacing is proud to announce that we have been awarded Best Residential Hardscaping Business – North West!
SME News has recently re-introduced The Northern Enterprise Awards. These awards acknowledge and reward the many hardworking people and companies in the North West. They also highlight the innovation and enterprise of both traditional and cutting-edge businesses in the region.
From engineering and manufacturing to textiles and telecommunications, as well as everything in between, awards are given on merit and decided through carefully researched information that is available online and in the public domain.
We feel that this award demonstrates the fact that hard work and effort pays off. All the staff at Planet Surfacing provide a professional service with attention to detail.
We'd like to take this opportunity to thank all our customers for the work you have given us over the years as well as your recommendations and referrals.
We continue to work safely and adhere to the pandemic regulations while ensuring our standards are still high.
Here's to more quality driveways and patios!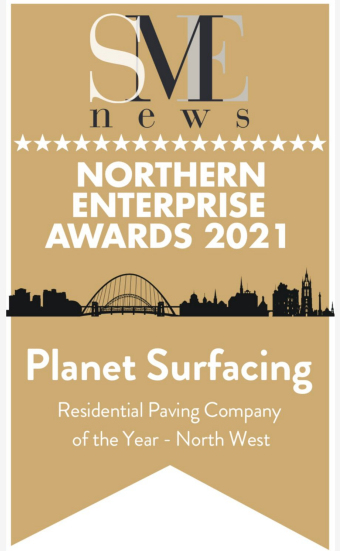 Driveways Manchester
Welcome to Planet Surfacing, home to professional driveways Manchester wide and Pattern Imprinted Concrete Driveways Manchester and beyond.
A family run paving business, based in Northenden and employing a close-knit group of diligent contractors, we have over 25 years of experience not just in constructing paving and driveways Manchester and Cheshire, but also in carrying out quality work across a wide variety of areas which are involved with the process.
When it comes to driveways and pattern imprinted concrete Manchester, we take care to ensure there are absolutely no compromises involved.
Pattern Imprinted Concrete Driveways Manchester
We take great pride in delivering an unmatched standard of workmanship, pairing it with a friendly and professional approach to ensure that every pattern imprinted concrete project and more is completed smoothly and without a hitch. As such, our Manchester contractors start with a comprehensive preparation, arguably the most important part of any driveway surfacing or paving job. We'll source only the best quality materials from reputable suppliers well in advance, taking into account all of your specified requirements to create your dream driveway, and we'll work closely with you to ensure that everything's right before we get underway.
Next we'll fully excavate and remove all waste materials from your site, leaving you to sit back and relax throughout the whole process without any hassle. When it comes to laying your stunning new driveway, taking as much care as possible ensures that the finished product doesn't just look great, but will last for years without shifting or cracking. With the increasing popularity of pattern imprinted concrete driveways Manchester, this can prove crucial.
There's no need to worry, of course! Planet Surfacing are highly skilled experts when it comes to paving, surfacing and driveways Manchester and Cheshire, and we can guarantee that the final product will be exactly what you were looking for. With such a wide choice of materials available, from natural stone paving and pattern imprinted concrete Manchester to flagging and tarmac, we'll be able to match your individual requirements and requests.
Whether you'd prefer a classic block paved driveway outside your Manchester home or a more extravagant pattern imprinted concrete driveways Manchester, we're the ones to make it happen, so why not give us a call?